My 9 year old German Shepherd is getting snappy.......
by Anna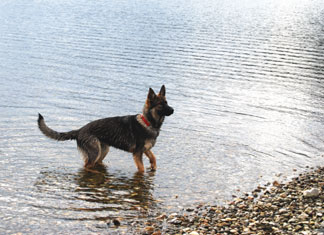 My German Shepherd is 9 yo and he has started snapping at me when given commands...
they only live 12 - 15 yo and he is in good health is this a sign that he is just being a cranky ol man?
Total German Shepherd
:
I wouldn't be surprised at his age if he's experiencing arthritis which could be one reason he's snappy. If that's the case glucosamine really helps. My 2 girls are just shy of 10 years old now and they've been getting glucosamine supplements daily for about 2 years or longer now.
It's definitely time for a senior checkup. Have your vet give him the once over to see whats going on with your big guy and to offer suggestions on what he may be experiencing and also for things to look for as he continues to age.
For more info on
senior German Shepherds
please read on. Good luck with your boy.
Join in and write your own page! It's easy to do. How? Simply click here to return to GSD Questions Form.
Sign up for promotions, news, discounts, and the chance to win prizes for you and your German Shepherd