My Baer - My Hero - My German Shepherd - RIP
by Inken Hiller
(Las Vegas)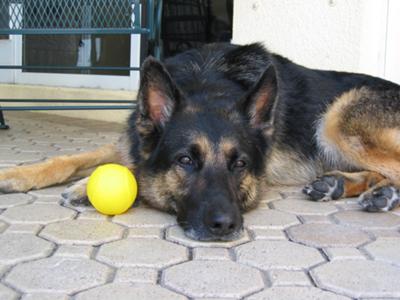 I just lost my beautiful Baer after almost 13 years - my heart is broken and right now I am just crying...


Baer had always been a very headstrong, alpha male, it took a lot of training, which was at times unnerving yet completely exciting - we trained for obedience and protection. Baer could go from being the most loveable, cute, schmoozing puppy into a highly trained attack-dog to protect me.
He would watch my every move. He really proved his love , loyalty and dedication , though, when one day he literally dragged me out into our courtyard of our house in Florida for me to find my husband on the floor - he had suffered a heart attack and thanks to my amazing Baer would turn out just fine because he got help fast!
I know Baer saved my husband's life - he was just the smartest, most attentive companion I could have ever wished for... I feel my house lost 'it's heartbeat' ever since he died 10 days ago.
It feels empty and hollow, but I am thankful to have had him in my life and he will be forever in my heart.
Total German Shepherd
:
Inken, first of all let me take the time to tell you how sorry I am for your loss. We all grieve along with you. It is so very hard to lose a wonderful pet German Shepherd. But your memories will help you through the long grieving process. Thank you again for sharing your story about your German Shepherd Dog, Baer, here with us all at Total German Shepherd.