My Beautiful Black GSD, Jessie
by Christine Edgecombe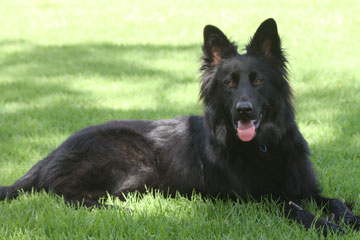 Here is my beautiful Girl Jessie - she is 15 months old & is absolutely a joy. Jessie has a had a rough start to her life medically but now is a thriving bundle of joy.


She was the runt of the litter but had so much personality that we could not go past her. She comes from the Macklin Kennels in Heywood where Linda breeds the most stunning black Shepherds
Jessie is so relaxed & just loves hanging out. Her passion would have to be water - whether playing in it or swimming in it - she honestly just smiles.
Now how is that for a beautiful Face
Regards
Christine Edgecombe