My beautiful, confident white German Shepherd, Hollee
by Bonnie Bowes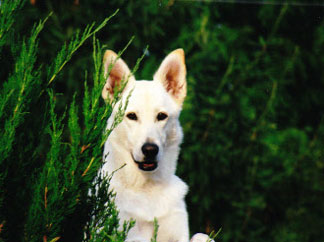 Peek a boooooooo!
This is my girl Hollee. She was only 5 weeks old when she came home to me.
Her mother didn't appreciate having puppies and began biting and being aggressive with the litter. Hollee took the worst of it I was told.
She was timid and frightened of everything. As she grew so did her confidence. She overcame her extreme fear of other dogs and shyness of people and has become this beautiful, confident girl ready to take on every challenge the world has to offer.
Total German Shepherd
:
Hi Bonnie. Thank you so much for introducing us all to Hollee. I enjoyed reading your great story about rescuing your beautiful white German Shepherd Dog Hollee. She is absolutely gorgeous too! I love the whites too - my first German Shepherd many years ago was a handsome white German Shepherd male and Hollee is indeed a gorgeous female.
Please keep us all up on her progress down the road and send more pictures when you can to add to our site. we'd love to see how she matures.
And for the rest of our readers I'd like to take the time to say thanks for reading along with us. And if you get the chance, please come back often to see what else is going on in our growing German Shepherd Dog community. BTW, please tell us also exactly what you think about the above story by leaving some interesting comments below.
"Exactly how do I do it?", you might ask. It's fairly easy to do - just click on the link that says "Click here to post comments" and if you want to read what others have said you can do that too at the same place.
So now it's all up to you readers. Share info with us as you'd like, read the stories of others, watch a few German Shepherd videos and see what experiences others have had with their own GSDs. Thanks for visiting us here at Total German Shepherd.