My Beautiful GSD Buster, RIP
by Alison
(Sheffield)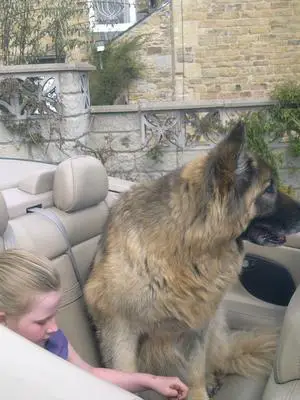 Happy days, German Shepherd Buster with Paige
I lost my beautiful GSD Buster, two years ago in August, I wrote a little message in this memorial page three weeks later. I now have a new dog who I love very much, I have a totally different breed as I didn't want to compare with my lovely Buster.


I'll never stop missing him or stop loving him.
God bless you Buster I try to remember you like this posing in the car xxx
Total German Shepherd
:
Dear Alison,
Thanks so much for taking the time to tell us all about your handsome Buster. He was a really handsome German Shepherd Dog and a fine example of the breed. I am so sorry for your loss.
It is never easy to lose a close friend and companion like Buster, be it a German Shepherd or any other breed, but you have warm memories of him and those will never fade. I wish you the best of luck with your new dog.