My Beautiful GSD Kira
by Dean Rapley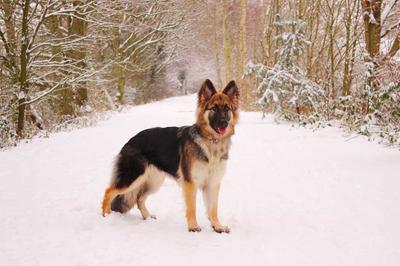 This is my beautiful gsd kira! She has such a playful and lovely temperament, she loves walking with me, my fiancé and my 2 daughters.


I took this picture while out for a walk in the snow, she was getting tired and I saw the perfect opportunity to take this picture!
Total German Shepherd
:
Hi Dean,
Thanks so much for sharing your lovely Kira with us all. She is indeed one beautiful German Shepherd. And I don't blame you at all for being proud - she is lovely!
And I am so glad she gets along well with your children and your fiance as well. Sometimes the transition can be a little stressful whenever you add a new family member. But it doesn't seem to be the case here.
Continued success with her now and in the future. I hope you all have the best lives together ever! As always, GSD's rule!!