My Big Sister, My German Shepherd Sheba, RIP
by Dj Willis
(Fountain,Co)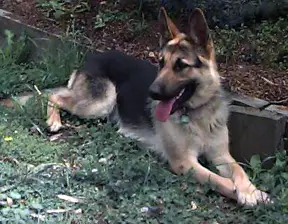 Wow what can i say to you pretty girl? It has been almost five years since i lost you those few days before christmas which was the worst ever without you.


I was only eight when you were put down because of your terrible arthritus. You were my big sister because dad bought you five years before i was even born.
You always protected me and you never let anything happen to me. The funniest memory i have of you is when i was five and i accidentaly let you out of the house and you pinned the gas man to the fence.
You were doing exactly what was expected of you which was kind of funny. You were never violent with me even when i would pull your tail and harrass you so bad. You wouldnt even pull on the leash when i was walking you even if there was a cat.
If we had the money like we do now you could have possibly been there with us that christmas. Well i am 14 now and I have been missing you dearly and i wish you would come back to earth and be here to protect me.
I hope you found harry up there with you. We still have your toys and the spot were you would paw the carpet is still there. Well malisa has replaced you with a beagle.
That may be her but not me in fact in a couple of weeks dad is buying me a dog exactly like you. I am going to name her after you. But one day i will be up there and me you dad and grandma iona can be a family again.
We all miss you even though you have been gone for five years i still miss you. Dont wait for me i will be there in good time. Play with harry and take care of great grandma willis and great grandma kay.
I love you and you will never be forgotten.

Total German Shepherd
:
DJ, first of all let me tell you how sorry I am for your loss. It is so very hard to lose a wonderful German Shepherd. Your memories will help you through it all though and your memories will stick with you forever and help through the long grieving process. Thank you again for sharing your story about your German Shepherd Dog, Sheba.