My black and Gold GSD, Klaus Von Blitzern
by Joane
(Adelaide , Australia)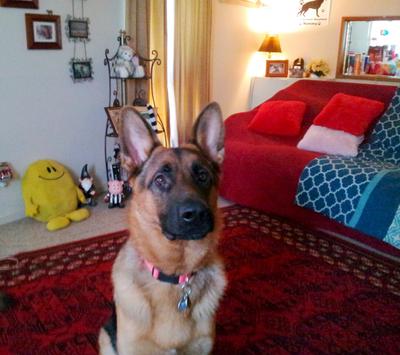 Klaus just turned 1 year old
My black and Gold GS , Klaus just turned 1 year old , how time has flown , everyday has been full of love , laughs and adventure , I adore Klaus and can't wait to love our life together


Joanne , Australia
Total German Shepherd
:
Hi Joane,
Thanks so much for sharing your lovely German Shepherd, Klaus, with us all here today, all the way from lovely Australia! He is one handsome fella for sure! ;)
And I love the name! Definitely a nice German name for a great German dog! Very fitting.
I wish you nothing but the best with him in the future and I hope the two of you have lots of years together. And if you get a chance, please get him into a training class of some kind. It'll be the best money you ever spent, and a great way to bond with him too.
Continued success with your handsome GSD. And thanks for telling us a little about him.