My Black German Shepherd, Charley
by BARBARA CLARK
(BELLEVILLE NJ ESSEX)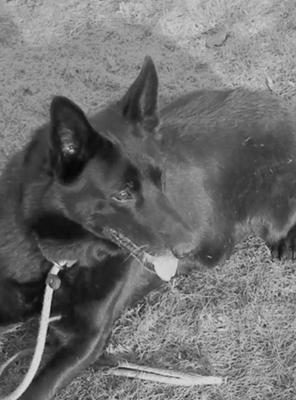 CHARLEY
I FOUND A BLK SHRPARD WANDERING THE STREETS OF THE TOWN WHERE I WORK. I TOOK HIM IN AND FED HIM THEN CALLED MY LOCAL SHELTERB TO COME GET HIM. I LIVED IN A APT BUILDING WHICH DIDNT ALLOW DOGS.


MY APTS WAS NEAR A TRAIN LINE AND I HAVE KNOWN DOGS TO HAVE BEEN STRUCK BY TRAINS. WITH A FEAR OF THIS HAPPENING ....THIS IS WHY HE WAS TURNED INTO SHELTER.
AT THE TIME I FOUND CHARLEY (SHELTER GAVE HIM THAT NAME)I WAS IN PROCESS OF BUYING A HOME(SHORT SALE WHICH TOOK APPROX A YR.) I WAS READY TO BACK OUT BUT DIDNT BECAUSE THE BLK SHEPARD CHARLEY WAS STILL DOWN AT THE SHELTER AND NEEDED A HOME.
LONG STORY SHORT......A YR TO THE DAY I FOUND HIM....HE CAME HOME WITH ME. WE R TOGETHER 2 YRS THIS JUNE 1 ST. I AM SO IN LUV WITH HIM BUT HE IS VERY SKIDDISH OF A LOT OF THINGS.
SOMEONES LOSE WAS TRULY MY GAIN. HE IS AMAZING A VERY SWEET I CANT UNDERSTAND WHY NO ONE EVER CAME FOR HIM.