My Black German Shepherd Dog, Smokey, Loves My Kids
by Monte Pack
(Canada)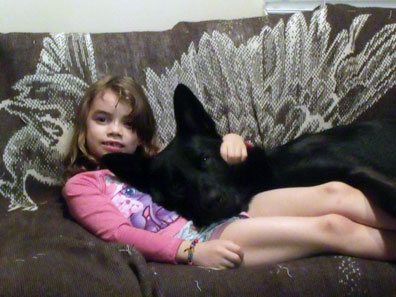 Here is another pic of smoke and my daughter. Smokey is about two in this picture and as you can see, he simply adores my kids.


I am starting to run out of really good pictures, so I'm going to have to take more, or stop trying to win this dang contest. Lol. As always…. German Shepherds rule.
P.S.
My wife took this picture, that's why it's fuzzy.
Monte Pack
Total German Shepherd
:
Hey Monte,
Thanks so much for the wonderful photo that you have sent in of your black German Shepherd Smokey and your little girl. It is really cute. And bless your wifes heart, it can be hard to capture photos during action so it is still pretty good so give her some credit for trying. :>
Definitely keep the photos coming in of Smokey as he grows - and it's fun to see a German Shepherd interacting with kids too since so many people have the wrong idea all together about German Shepherds in the first place.
And then talk about a big German Shepherd, or a solid black German Shepherd, and people can get even more scared of the whole thing. For some reason dark dogs, especially big dark dogs scare the you know what out of a lot of people.
Anyway, we truly appreciate all the nice shots. Thanks for taking the time to share them with us Monte - have a great day.