My Black German Shepherd Luca
by jeanette hanson
(nova scotia canada )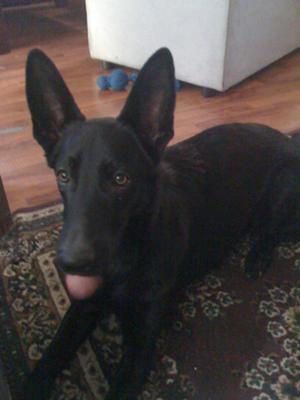 I own a wonderful solid black shepherd named LUCA he will be 5 in june and i can tell you he was not the dog i thought i would end up with ...but i now i dont know what my life would be like without him .....


he tought me that a dog can be strong , smart , loving , loyal , and my best friend , sometimes i think if he could speak he would say ..... relax i got this , dont worry your safe with me and you can trust me .....
that is what i feel a good no ...a great shepherd should be ....confident!!!!
People ask me all the time if he is a lab or a wolf and i laugh because even though he is a shepherd people never guess that he is .....
I love LUCA more then life it's self and will never have another breed due to him .... thx buddy love mama!!!!!
Total German Shepherd
:
Hi Jeanette,
Thanks so much for sharing your handsome young man with us. Luca is a gorgeous black German Shepherd Dog and I wish you much luck with him in the future.
German Shepherds are wonderful pets and the fact that they are so intelligent and empathetic really makes it hard to imagine your life without one if you have ever been blessed enough to own one.
And the blacks - those gorgeous black German Shepherds - its hard to imagine another animal that could be any handsomer. Except maybe another GSD! Thanks again for sharing - we love to see German Shepherds of all sizes, shapes and colors too!