My Boy Ekko is a Very Athletic German Shepherd
by Bonnie B.
(Niagara Falls, On)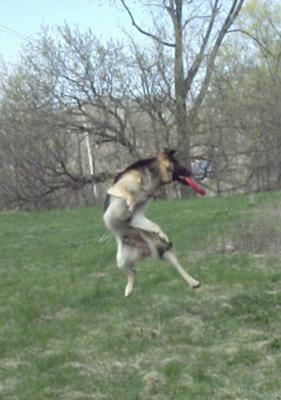 what a catch
Hi! This is my boy Ekko. He would love to be entered in your GSD of the month contest.


He is a very fun loving and athletic boy. He excels at obedience, always trying so hard to master any new command I introduce to him. He has always loved to play fetch and would live in water if possible.
His summer days are spent swimming and playing at the creek near our home. Recently I introduced him to a frisbee unsure if he'd try to jump in the air to catch it as he is a fairly large boy.
But to my pleasure and I believe to his, he caught on instantly and will do anything to have his frisbee thrown. Here are some shots of him "dancing" in the air.
I hope you enjoy them.
Bonnie B.
Total German Shepherd
:
Hey Bonnie,
Thanks so much for sharing all these great photos of your super dog, Ekko. He is quite the frisbee dog.
You might want to consider putting him in a disk dog competition if he has a natural aptitude for it. Plus, you see very few GSDs actually competing in this kind of competition so it would be a benefit for the breed too.
Most people think Aussies or Border Collies when they think frisbee dog but German Shepherds can do it too. I once had a female who was a natural athlete too and she was great at frisbee for many, many years.
Thanks again for sharing all these lovely, action shots of your boy at play. You can definitely see how much he loves it. Keep him active and you'll keep the weight down too! Good luck with him!