My "dream" dog, my German Shepherd Luther
by Jessie Lopez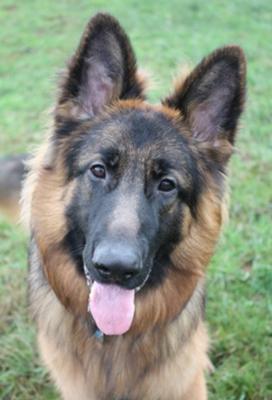 Greetings,
I am attaching a picture of my Luther. He's a little over a year in a half.
GSD's are my "dream" dogs. I've loved them since I was a kid...it's their stance, radar ears (that's what I call them hehe), long snouts, and overall demeanor about them that I just LOVE.
We are an Air Force family stationed in Germany, and came across a breeder selling a litter of pups. I called him and set up a time to pick my dog out....I let my daughter choose between the two he had left. And of course she chose the pudgy, floppy ear, bully of the bunch.
But it was L-O-V-E at first sight for me. A year and a half later he is a extremely wonderful addition to our family. He watches out for us, especially our kids. My children played "doctor" while he was laying on the floor and Luther just laid there and let them "examine" his ears, teeth and paws.
When my children cry he finds them and waits till I come to them. Just recently, a man came to our house selling something. He took one step into our home and Luther got between me (with my son) and the man and barked his "mean" bark that I LOVE! The man backed off and started walking backwards....let's just say I was a proud mama!!
It just goes to show that he is loyal and a great protector of my family. And I know when my husband has to leave for a few months, I will feel safe knowing my Lu is there with me and my kids keeping us safe.