My Everyday Companion Atticus
by d emers
(virginia)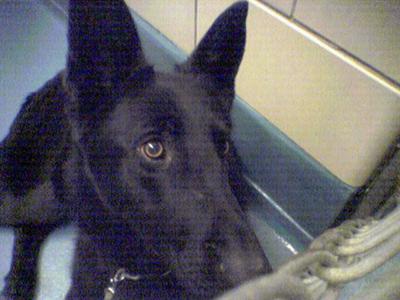 our first meeting
After losing my companion of 14 years, I needed to have another and so after a few months I found Atticus at the local county pound. He had come in the same day and I had to wait the required number of days before bringing him home.


He was just under a year, thin, lame in his left rear, and was left to run! When my son saw him he was dubious, I fell in love immediately. The pound waived his fee because of the lameness and off we went to the vets.
My wife was unsure, not having a large dog before marrying me. Still, a GSD is a special companion and you have to know them, and they have to get to know you.
Here is a list of costs,
Vet visit after adoption free
food, supplies $200
surgery $3000
1 fenced Yard $5000
food, supplies unknown (still calculating)
wellness exams, etc. unknown (still calculating)
additional surgery for toe cancer $2400
baths, toys, treats, unknown (still calculating)
Oh, and the application fee to college....just kidding
Peace of mind, companionship, security, confidant, and the joy of helping a forever friend? PRICELESS !!!!
Total German Shepherd
:
Wow, I am blown away by your level of commitment and the challenge you have taken on in helping Atticus out. You will all be blessed for your decision to help out this special little fellow for years to come.
He is one handsome fellow and quite the lucky one too. Toe cancer, what an unusual thing - that's definitely the first time I've ever heard of that in a German Shepherd. Or anyone now that I think about it.
With his young age and your help with the doctor bills and health care I hope you all catch it quickly and that it is cleared up and cured asap. Please keep us up on how Atticus is doing with all his treatments and his acclimation to his new home with your family as well. God bless you all.