My First German Shepherd, Jake
by Trudy Wisnoski
(Canada)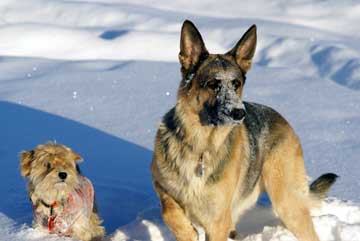 Snow buddies
Hi There – JAKE the shepard is the love of my life and of course his brother Elwood – yes the blues brothers.
I have had jake since his was 2 months old the second I got him I fell so in love, I knew I couldn't live without him in my life -
At 2 months old he would follow me around without a leash and to think I was going to get a lab (no offense).
Wow this is my first shepard and I will never ever not have one in my life. He is so loving but at the same time he is very intimidating to a lot of people because of his size, jakes weight is 103lbs a very lean machine, he lives in Yellowknife, NT and loves the winter as much as I do.
As you can see in the photo its our favourite time of the year, he gets walked about 2 hours every single day rain or shine. He is a very happy and spoiled boy and I am considering on getting another very soon. Thanks for your consideration for my beautiful boy.