My German Shepherd "Ayla" LOVES the water
by Crissy Metz
(Charlotte, NC)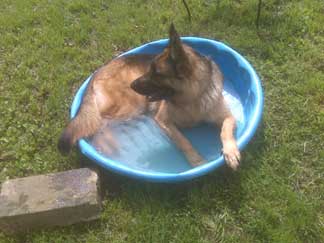 "Ayla" is a 2.5 year old GSD that LOVES the water. She would swim all day if she could.
When she's not able to get to a large body of water, she's perfectly content hopping into a baby pool and basking in the sunlight, with her paw hanging over the edge of course!
When she's not in the water she enjoys play dates at the dog park and watching the Tar Heels with mom.
She's been a wonderful companion and has even saved mom's life. When she was just under a year old, mom was taking a nap on the couch and she came over and licked her face.
Ayla was yelled at and told not to do that by a half asleep mom and within a minute, Ayla came back and did it again.
When mom woke up and started to yell at her again, she realized her blood sugar was dangerously low and Ayla was just trying to wake her up so she could go get something to eat!
She's certainly this ladies best friend!
Crissy Metz