My German Shepherd Dakota and Her Kitty NuNu's Sleeping Arrangements
by Deb L Phillips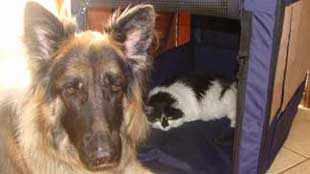 To Whom It Concerns:
I would like to submit this humorous photo of my Psychiatric Service Dog (PSD) and companion cat NuNu, for your GSD Monthly Contest.
Dakota takes her duties as a PSD VERY seriously! Even when we are at home, she keeps a close eye on me. But I always make a concerted effort to play with her, take her to the park and let her do "doggie" things to relieve any stress she might have.
Unfortunately, her favorite way to de-stress is to play with her 21pound, ex-feral cat, NuNu. Kota will drop toys on him, trying to get him to play with her. They are very good friends.
When NuNu has had enough of the roughhousing, he retreats into Kota's crate, where Kota can't drop things on him. So while NuNu sleeps the day away, Kota pouts outside the crate and sighs heavily, hoping he will wake up and come out to play some more.
A couple of times, Kota has tried to go inside the crate with NuNu, but there just wasn't enough room for her to lie down, and NuNu wasn't going to budge an inch for her! And so, poor Kota just has to wait outside the crate till NuNu decides to come out again...
Judges, I know you will be inundated with pictures of glorious looking GSD's for this contest. And while my Kota DOES fit in that category, I wanted to submit something completely different in the hopes of catching your eyes – and this is a occurrence that happens almost daily!
Respectfully,
Deb L Phillips