My German Shepherd doesnt bark, and follows me everywhere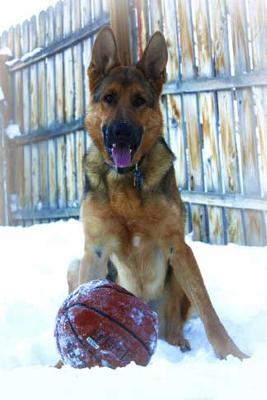 I just took in a 5 yr. old GSD last week. She is very friendly with any person she meets. She does not bark at all, and follows my every move.
She also does not care for cats, and is very dominant when meeting any other dog up close. And she usually wins the title of queen over the other dogs that she meets.
She will not play if i put her outside alone, she will however play for hours as long as im there with her. But as soon as we come inside, and i go about my chores, she just sleeps, until its play time again...
is this normal behavior, or is she missing her old pals that she left behind at the old owners home ?? Thanks !