My German Shepherd Dog, Lincoln
by Raymond J. Mortenson
(USA)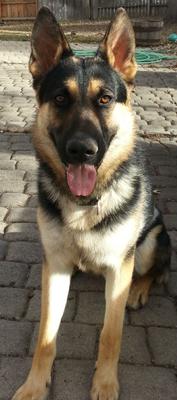 Lincoln smiling
This is a picture of Lincoln he is a AKC registered Shepherd full of life.


He has stolen our hearts with a great personality and full of Love.
We are committed to him fully and are thankful each day he is here with us.
He loves to play ball and willing to do it 24 hours a day LOL.
We Love him.
Raymond J. Mortenson
Total German Shepherd
:
Hey Raymond,
Thanks so much for sharing your wonderful German Shepherd Dog, Lincoln with us all here. He is absolutely lovely. And I love the name too - very manly, I think, and generally befitting such a handsome young GSD.
You can just tell from the picture that he is full of life, really very smart and a character just waiting on the next adventure to come around. I wish you nothing but the best with him. He is definitely one good looking German Shepherd.