My German Shepherd Dogs, Derrick & Dana
by Deb
(Prescott, AZ)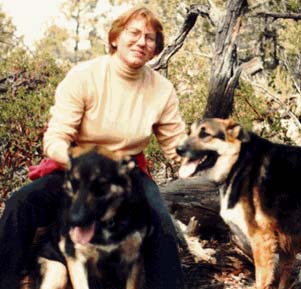 Derrick and Dana, Best Pets Ever
Derrick & Dana, Brother and sister German Shepherd pets


I got Derrick and Dana when they were both 9 weeks old from a dear neighbor. Derrick died when he was almost 10 of bone cancer and three years later his sister Dana succumbed to arthritis. But while these two sadly passed away far too soon, I am blessed to have had them as my pets. They were half purebred on their mother's side, and daddy was a GS/Rottweiler/lab mix, but they looked like very big German Shepherds.
Derrick was big, tall, and weighed 123 lbs. A handsome boy, he loved to sing with the harmonica, talk a blue streak, and was the brave one of the two. Dana was quiet, retiring, and a food hound. She loved her food and Derrick's food, so the vet's recommendation to put a self feeder out was not to eithers' best interest.
Dana was always close in to the house or to me, with Derrick out about 25 to 50 feet out. Dana would deploy Derrick to check out anything suspicious around the property. Once I fell on a run and both appeared at my side immediately.
Derrick loved little kids but knew he was big, so when he saw a child, he would hunker down to make himself smaller, and cry for the child to come pet him. He was devastated if the child was afraid. He would sob and cry, fall over on his side or his back, and try to entice the child again.
Dana was the opposite. She was not fond of little kids and would hide behind something to keep out of their range. But she loved to be petted for hours by anyone and any age once she got used to them.
Dana was so shy that I could never actually train her. I trained Derrick, then Dana showed me she knew the task! On walks in public places I put a leash on Derrick (Squirrel! Rabbit!) because he was so exuberant, but if I put anything more on Dana than her leash handle she thought she was a bad dog and was sad and mopey.
She heeled perfectly, and both dogs knew "Stay close", "Car, to the side" and "Cross-Right, Left, or Straight". They knew "Stay home", but Dana loved a good mud puddle and would sneak off for a good wallow. Since dust and mud stuck to her like glue, she was forever getting a good bath or a wash down. Derrick could run though the mud but 5 minutes later he was clean, and his feet and 20 black toenails were perfectly clean.
The only thing Derrick wouldn't eat was pickles and raw onions. He would cry for corn cobs and loved watermelon and the light green part of the rind. Once our cat Peter stole a buffalo steak from the groceries and he and Derrick not only dragged it off behind the chair, ate it, and hid the packaging, but both blamed each other and denied culpability, even though I caught them in the act! Dana would never start anything, but she was perfectly capable of helping to eat the half pound of chocolate Derrick pulled off the counter, or helping to open and drink the beer they brought home from the construction site next door.
When Derrick herded 4 cows into our yard from the national forest, Dana helped to keep them in the yard. Fortunately, by the time I got home from work either the cows were herded back into the forest or they went back by themselves.
When we brought home a 6 month old female lab/German pointer we named Medea, it was Derrick that adopted her and acted as her mom. Turned out that Dana was not the nurturing type, but she would herd Medea back to Derrick whenever it was needed.
They both had such personalities. Derrick was the outgoing one, while Dana was clearly the boss. I miss them both daily and can't wait to get another German Shepherd, which is my favorite dog of all time. Medea is still around at 16 and she still gets excited when she sees a large, dark GS dog, hoping it is her Derrick. However, she loves being the only dog because she gets to sleep on the bed and get up on the couch.
Total German Shepherd
: Hey Deb,
Thanks so much for sharing your wonderful story about Derrick and Dana with us all. Man, everything you said sounds like so many of the GSDs I've owned over the years. It's so funny to hear your stories because parts sounded so much like what I have encountered in the past.
These are indeed wonderful dogs as you well know but certainly not for everyone. But if you do bond with them there is no match! Thanks again for telling us about your experience with German Shepherd mixes and whenever you get a new GSD for Medea please feel free to come buy and share your new baby with us.