My German Shepherd Ginseng
by Maria Adinolfi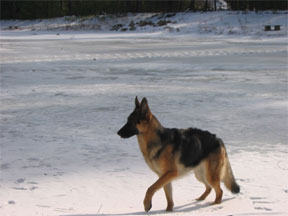 This is a picture taken New Year's Day 2011. I call it Winter Walk.
This is my Ginseng (Ginny). She is a two year old GSD that I adopted on December 29, 2010 as a birthday present to myself.
Ginny was a kennel dog, amatuer show dog. I was told that they adopted her out because she demanded too much attention and did not get along well with other dogs.
Well, it's been 3 1/2 weeks now and she is the BEST DOG. We go for long hikes on the weekends, and walks during the week. Ginny has become my best friend.
She is so beautiful, intelligent and so much fun. I can't imagine life without her. We are going to be starting obedience classes in two weeks.