My German Shepherd Girl Ginseng, Love at First Sight
by Maria Adinolfi
(MA)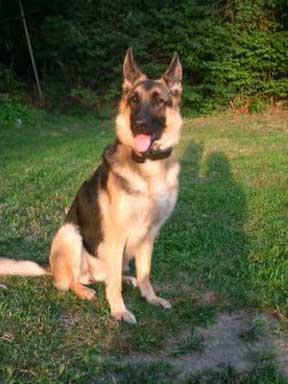 Hello,
I am sending a picture of my girl Ginseng (Ginny). Ginny will be 3 years old on November 9, 2011.
I adopted her on December 29, 2010 from a breeder. She was with the breeder for the first year of her life until a breeders friend started showing her.
The woman had other dogs in the home and didn't have the time to train Ginny, she was having some fear aggression and was not getting along with other dogs. She was returned to the breeder and lived the next year in a kennel.
I found the ad on craigslist, went to meet her and it was love at first sight. Eight months later, obedience training, and a lot of love and hard work she is the BEST dog I could ask for. She has come so far.
German shepherds are the most intelligent, devoted dogs anyone could ask for but they need a lot of work. I can not imagine my life without my faithful companion by my side. I have attached a picture of my Ginny girl.
Sincerely,
Maria A