My german shepherd is too uneasy during summer due to hot weather
by ahmer shams
(Pakistan, Islamabad)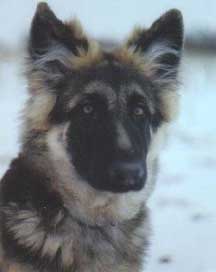 i have a double coated pure breed german sheperd who is being disturbed by hot weather,


he barks excessively,he dosent like being tied ,he is vaccinated,one year seven days old,he is also not very healthy,he eats puppy chow dog food,
he starts barking in afternoon and continue till night,he goes for a walk 3 times a day,he wants to sit in our car park which is shady,although he has his own house ,he is bathed once a month,
please tell me how can he feel better and pass the summer easily?
Total German Shepherd
: A few suggestions would be: keep plenty of fresh water available, exercise your dog slowly, and if you have access to any kiddie pools or a water hose, most german shepherds love to play in the water and its a great way to cool down in the heat.
Also, I would suggest you groom your
long coated german shepherd
even more frequently to help remove any dead hair and to keep your
long coated german shepherds
coat as mat free as possible.