My German Shepherd Isis: RIP
by Carrol
(United Kingdom)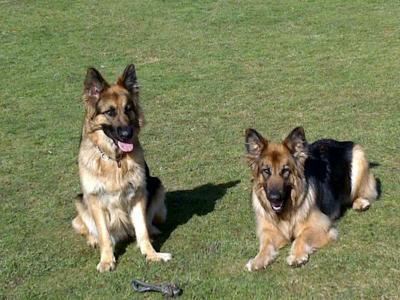 I got Isis on the Easter Weekend in 2007. I bought her along with her sister Nala. Sisters being Sisters, they were very naughty as puppies but I treasured every day with them both.
In February this year Isis suddenly became ill. I took her to the vets and she was diagnosed with Chronic Renal Failure. I was devastated. This was my baby girl.
I tried everything, but she was too far gone and within 5 weeks she was gone. I have lost my best friend. Her sister is so very lost without her sister.
Isis you touched my heart in a way no other GSD ever has and I will never ever forget you and till we meet at Rainbow Bridge, stay safe and run free. In the picture attached Isis is on the left.
Total German Shepherd
:
Dear Carrol, Let me say right up front that I am so very sorry for your loss of your German Shepherd Dog, Isis. I am so very sorry for the loss of your wonderful pet Isis.