My German Shepherd JOHN
by T.K. PAL
(INDIA)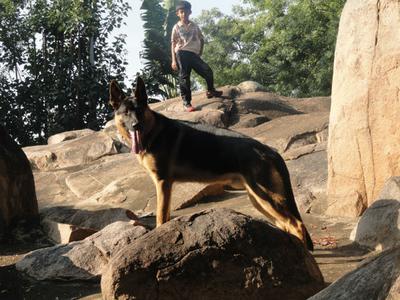 JOHN at Hilltop
Hi,


I am sending herewith my German Shepherd JOHN picture for German Shepherd Dog of the Month Contest of October/November of 2013. Kindly requested to acknowledge the receipt of the same for the above purpose.
My GSD details and my complete details are given below. Thanking you.
With best regards.
Dr. T.K. PAL
GSD Details :
Name : JOHN
Breed : German Shepherd
Age : 11 Months
Nature : Very lovable , Strong, Energetic and Playful German Shepherd JOHN at Hilltop.
Total German Shepherd
: Hi T.K.,
Thanks so much for sharing your handsome German Shepherd John with us. He may not have won the November GSD of the month contest but he has won the award for the first GSD I've ever known of named John!! LOL
He is indeed one handsome fellow. So much so that I thought he at least deserved his own page her on our German Shepherd site as a runner up type award!!
I wish you nothing but success and happiness with him in the future. And many, many years of companionship. Thanks once again for sending in the wonderful picture of you German Shepherd puppy John.