My German Shepherd Klaus Takes a Seat
by Ursula Nemeth
(US)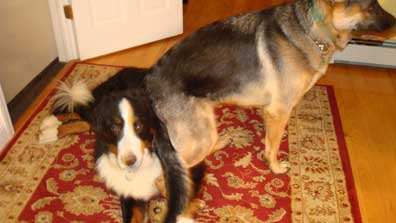 Klaus on the Bernie
My Klaus uses my Bernese as his "Chair" ….. see the other picture also (not so clear, but just to show you that this is not a one time thing)


Ursula Nemeth
New York
Total German Shepherd
:
Hey Ursula,
Thanks so much for sharing those great pictures of your German Shepherd and your Bernese Mountain Dog. I have seen a lot of things before, but never a German Shepherd with a Bernese Mountain Dog Chair.
Poor Bernie. I feel sorry for him/her. What a drag to act as a chair for a big old German Shepherd all the time. I'm sure it might want to turn the tables around from time to time. ;)
I have been the chair for several of my own German Shepherds in the past but have never seen any of my dogs sit on one of the others. (At least not on purpose) Too funny.
And the expression on your GSDs face is hilarious. And the one on the Bernie is priceless too. Please keep the pics coming in - we all love to see them. And to see something unique like this - priceless.
Thanks again Ursula - and continued success with your Bernie and your German Shepherd Dog. I'm sure they'll keep you entertained for years to come.