My German Shepherd Koko
by Lennora Fendell
(Temple Hills, MD USA)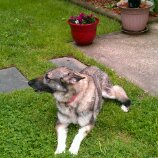 Koko 11 yrs old
Koko is my best friend, really she is my everything. I've had her since she was 8 weeks old, dob 9/1/2000.


I always take her to the vet making sure she is well. She grew like a weed and her maximum weight got to 119 lbs so I had to put her on a diet, she now weighs 87 lbs.
She gets groomed once a month. She was very easy to train and she is very good with the grandchildren.
She is very protective but not aggressive. She is getting pretty old now and she doesn't move about like she use too, I love my GS.
Total German Shepherd
:
Hi Lennora,
Thanks so much for sharing your wonderful Koko with us all her at Total German Shepherd. She is absolutely gorgeous.
I love the sable German Shepherds - such a pretty coat color.If you get the chance, put Koko on some glucosamine daily and you will be surprised just how much better she'll get around. I put all my GSDs on it after they get to be about 6 or 7 - just to help with their joints.
Good luck with Koko and continued success with her in the future - she is definitely a wonderful example of a senior female German Shepherd Dog and I wish you nothing but the best with her.