My German Shepherd Molly has a cat named "Jace"
by Christine Loewenberg
(Canada)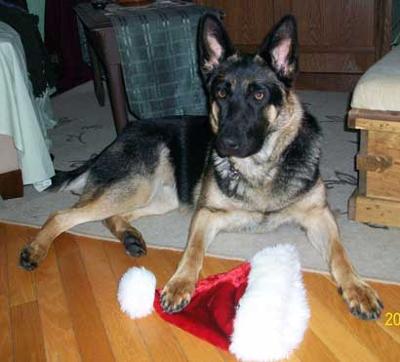 I would like to present Miss Molly-Mae (AKA Sweet Pea or just Pea) Born July 17th 2009. In the attached picture Molly is intently looking at her cat walking in the room after she had just taken the Santa hat off my head. She also likes to try and take my socks off.


I adopted Molly from Breeders in my area (Sarnia, Ontario Canada) The Breeders farm is called "The Funny Farm" they also have an excellent kennel "The Howladay Inn".
Molly's Mother is a pure black Shepherd named Midnight and her Father is a King Shepherd named Miracle notice a theme here. They have had great success with the litters. Midnight and Miracle are the perfect mix and have produced many beautiful, even tempered, perfectly marked GSD's.
Miss Molly is true to here astrological sign "Cancer". She is caring, loving, gentle, smart and protective. She is my best friend. She has a cat named "Jace" and he can totally hold his own with her. Molly has just recently been bringing me my boots, after I have had a rest after work, to let me know it's time for "walkies".
She likes to sleep beside me in bed on her own pillow. She enjoys her pool in the summer, playing in the snow, playing catch any time and chewing on "Rocky" her unstuffed animal.
One of Molly's pet peeves is "The Dog Whisperer" she goes crazy when she sees other dogs on T.V. which is a shame because it's one of my favourite shows to watch. We are working on this issue but I may have to call on Cesar himself for this one. (lol) Molly is a pleasure to come home to. She had my heart at "woof" or with Molly it actually sounds more like "boof".
Thank you for your time and consideration.
Molly, Jace and I wish you all a Merry Christmas and Happy New Year.