My German Shepherd Neffie - RIP
by E Eskridge
(Westchester County NY)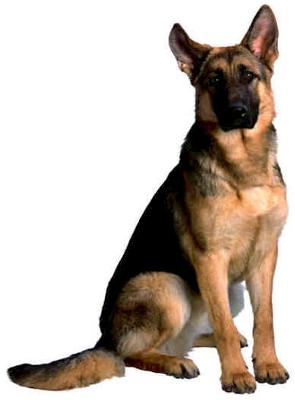 My husband and I adopted Neffie, a one year old spayed female GSD from the Elmsford Animal Shelter in January 1991. She was the only dog there not bothered by the incessant barking in the shelter and seemed to bond with us quickly.


We also observed her curled up and sleeping with some of the cats there at the shelter so we thought she might have a sweet temperament. As we drove home we stopped to pick up the items which would transform us for the next twenty years into dog owners!
Neffie proved to be an intelligent and loyal dog, but also one that carried what seemed almost to be a congenital illness! She developed a lump in her hip area which the vet reassured us was a "cyst".
When the lump kept growing we took her to the Animal Medical Center in Manhattan for a second opinion (this was New Years 1993) and found out the worst: she had a malignancy so rare that the AMC only had two other cases at that time: liposarcoma.
She underwent surgery and then 8 weeks of radiation three times a week. I was pregnant with my son at that time and had to drive her down each day and pick her up at the end of the day. While other dogs might have been boarded there for the week, Neffie being a rescue would have suffered: she would only eat in our presence! I still remember her searching the waiting room for us every time they brought her out and practically lunging for us when she saw we were there.
When my son was born, we took his onsie home from the hospital for her to smell so she would accept him. We needn't have worried! She became his loyal defender as well!
The first time I took her out after he came home we went to a local park where I let her off the leash. She looked at me and made a beeline for home just as though she were shocked that I left the baby there!! She had to go down a steep embankment, cross a stream and up the other side, go down the road and cross the intersection to get home!! I was shocked at her total devotion (made me feel almost guilty!)
Poor Neffie redeveloped metastatic cancer in 1994, one year later. In December after several rounds of chemotherapy at my local vets, we realized it was hopeless. We scheduled a final appointment at the vet in Mamaroneck on a Wednesday.
On Tuesday I took her to Orchard Beach to have a final walk. Even in her debilitated state she tried to chase a few squirrels there! We went to the vets the next day and they handled it beautifully but we cried the whole way there.
We still have Neffie's ashes on our mantle at home. She was only 4 when we had to put her to sleep. A month later we bought our first puppy, Aja, a female GSD from Highland Hills in Brooklyn, but that's another story!