My German Shepherd puppy cries at night - why?
by vanessa fletes
(pomona,calfornia)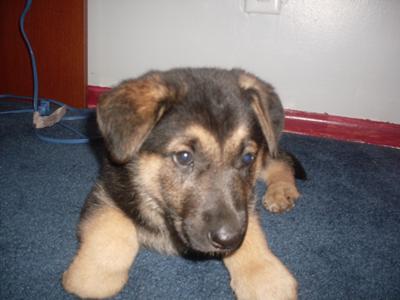 little rocky
we just got a puppy German Shepherd and its crys a lot at night!! is it because he sleeps a lot during the day???!!
Total German Shepherd
:
Not necessarily but there are a lot of reasons why your puppy may be crying at night such as:
- it's lonely
- it's scared
- it needs a potty break
- it's hungry
- it's thirsty
- it's not tired
- it wants your attention
- it's not feeling well
- it misses it's mom & littermates
- it misses you
etc.
So, it's your job to figure out exactly why it is crying and to take care of it - remember not to yell at the puppy no matter how frustrated you may be and remain as calm and collected as you can.
This little furry baby is yours now and completely your responsibility so how good or bad the puppy is as an adult is in direct relation to how well you treat and train the puppy from day one on.
Good luck with your new German Shepherd puppy. Feel free to check out our GSD puppy section for more info all about the GSD and what you can expect.