My German Shepherd Puppy, Reggie
by rosemary
(hagerstown md)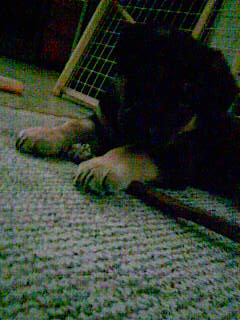 Cuteness Alert - German Shepherd puppy
He is a sweet adorable 7 week old german shepherd! Loves to give kisses and of course the playful biting and chewing - we are working on that, he already goes up and down steps and uses leash.


Total German Shepherd
:
Hey Rosemary,
Thanks so much for sharing your adorable German Shepherd puppy Reggie with us all here. He is sooooooo cute!! Man, I can smell the puppy breath all the way over here. Man I miss that :)
Thanks also for all the great German Shepherd puppy pictures. We always love those!! He is photogenic for sure.
I wish you nothing but the best with him. Make it a priority to get him on the best puppy food that you can afford, make sure you keep him up on all his vaccinations and wormings and socialize, socialize, socialize!!
Do these things and he will be well on his way of growing up into a wonderful friend and companion. Also, get him into a puppy training class as early as you can and you will be surprised at just how much of a sponge these little guys are when it comes to learning new things!!
Way to go - good luck, have fun and please keep the pictures coming in - we love seeing German Shepherd puppy and dogs all day long!! And if you need more information please feel free to look through this site for all sorts of German Shepherd Dog & puppy information and advice :)