My German Shepherd Puppy Ruger is growing Like a Weed!!
by Cheryl
(Hope, Michigan, USA)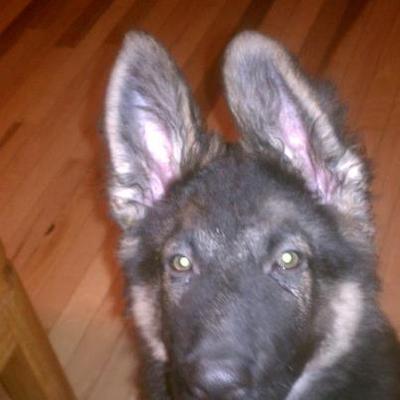 Ruger at 14wks
I got Ruger at 7 weeks old and 12 pounds, he is now 15 weeks old and 45 pounds. It seems we go to bed at night and when I wake up he has grown overnight. (He has actually)


His ears were up and now they are down again, but from what I am reading here and there I am not to worry because he is starting to teethe and this is common.
Total German Shepherd
:
Hey Cheryl,
Than you so much for sharing the great picture and information with us all about your "little" German Shepherd puppy, Ruger. He is definitely one handsome little fellow!
And you are absolutely correct about the ears - as long as he is teething they will be in so many positions and postures you won't be able to keep track of them all with out a excel spreadsheet!! LOL!
And these babies, they do grow like weeds - so expect him to be close to 90 pounds or so by the time he is a year old. It is actually quite amazing to see the changes over time so take a lot of pictures along the way because he won't be a little puppy for long.
So expect a lot of changes in your German Shepherd puppy over the next few years - his body is in one constant state of upheaval, but what a handsome young man he will be because he already is right now, don't you agree?! Ruger is definitely a cutie!
So, continued success with your German Shepherd puppy. Maybe you can send us some more pictures somewhere down the line. I know we would all love to see them!