My German Shepherd Puppy, Sam
by Linda Rothrock
(Pennsylvania)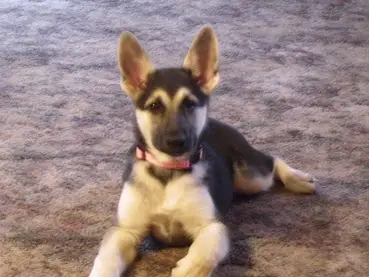 My German Shepherd Puppy, Sam
Hello everyone! I love all the posts, which has inspired me to post a picture of my Sam. Sam will be three months old in a few days.


She continues to amaze me on a daily basis. She was house trained in a little over two days (yes, I'm serious), and learns quickly by observing everything & everyone around her.
I've often heard about the intelligence of GSDs. Now that I've witnessed it for myself, I am totally in love with the breed.
Total German Shepherd
:
Hey Linda,
Thanks so much for sharing your beautiful German Shepherd Puppy with us here. She is gorgeous. Just look at those ears. She is truly a beautiful little German Shepherd Puppy.
Yes, German Shepherds are truly incredible animals. You are just at the beginning stage of finding out just how wonderful and intelligent that they are. Do all the training you can with her and she'll just soak it up like a little fuzzy sponge - and ask you for more!
She will provide you loads of companionship for years to come and I wish the two of you nothing but the best. Good luck with Sam and maybe down the road you can send us an update on how she's developing.