My German Shepherd Puppy Sylar's Homecoming!
by Nicole
(Cape Cod, Ma)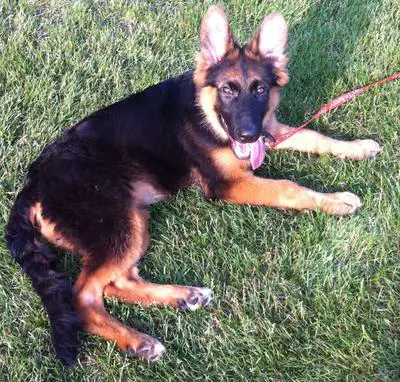 Just look at that smile ;)
I was born on Valentines Day this year (2013). I remember the smell of the same girl visiting me once a week when I was in my cushy comfortable bed with my brothers and sisters. She was always picking me up and kissing me making me feel safe in her arms, the same as I felt when I was under my moms fur.


The day I turned 8 weeks, I was outside playing with my litter mates, and I stopped suddenly cause I smelled that familiar smell from that girl again. This time she didn't come to me right away but went and talked to my human breeder.
I thought that was strange because she always held me for the longest time, even sang to me! All of a sudden she did come to hold me! Then something different happened! She took me away from my pack in a thing they call a truck,(my fur mom told me, she likes to bark at them).
I was scared at first but then she held me close to her warm belly and called me Sylar! I now have a name and I felt safe again! I'm 6 months old now but I knew as she drove off that I was coming home to a new family where I would always feel safe and loved!