My German Shepherd Pupy,Tsnaumi
by Nifer arneberg
(Tacoma wa. USA )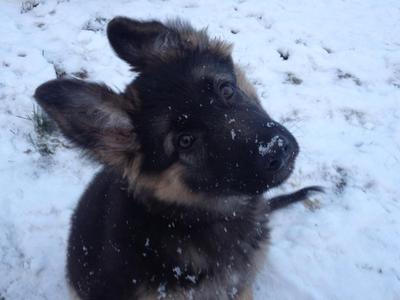 Tsunami's my 9 mon old baby German Shepherd puppy
My 9 month old baby girl "Tsunami" is the hands down the sweetest, goofiest, most loving, gentle, clumsy pup ever!!! & yet so protective & loudest bark ever!!!! She is the perfect mix of loving & protective.


Also I've had her since she was 10 weeks old & she still head tilts for everything I say or if she watches tv or hears a funny sound & also every word anyone says directly to her!!!! It's the cutest thing ever :)
Total German Shepherd
:
Hey Nifer,
Thank you so much for sharing all the wonderful pictures of your gorgeous German Shepherd puppy, Tsunami. She is beautiful!
The pictures that you have sent are great too. Wonderful - she looks like the perfect little German Shepherd model!
I love when they tilt their hands at things too. It is a cute behavior I agree. And make a great video by the way. Continued success with Tsunami!