My German Shepherd Seren's Amazing Life
by emma hunt
(wales)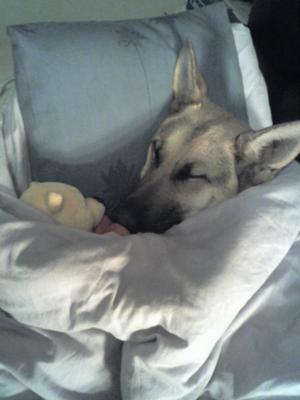 I was in the market for my first german shepherd 3 and a half years ago now, working in my local pet shop, a customer passed the number of a breeder along to me, later that day i phoned to enquire if they had any puppies.


She told me that she had a six month old gsd bitch for sale and i was welcome to come and have a look.
I went along to the breeder with my now ex partner (its me or the dog he said guess which one had 2 go!!) and the breeder took us into the yard, there was a medium coated heavy set shepherd, at the top of the yard was a thin smaller built gsd.
I asked the breeder about her, she's not for sale i was told, the breeder explained how she had just had her back as the woman she had sold her to couldn't handle her she was 6 months old, i asked what had happened and why she was not for sale,
i was told at 8 weeks old when she had first been sold the woman had taken her home and the following day had locked her in the garden shed while she went on holiday for 2 weeks, ''who looked after the pup then'' i asked ''no one came the reply''
It turned out she had been left with just one bowl of food and a bowl of water to last her for 2 weeks. i asked to look at her which the breeder allowed after much nagging from me!! down came the thinist dog i have ever seen you could span her waste with your hands.
amazingly she came straight to me and sat down by the side of me talk about love at first sight i told myself that was it she was coming home with me no matter what!!
I noticed cuts under her neck i asked what had happened, the breeder told me she had sold her at 8 weeks with a puppy collar on and at 6 months when she came back she still had the same collar on and it had grown into her neck. the woman had tryed to grab her by the scruff and seren had bitten her so she had taken her back to the breeder demanding her money back saying the dog was unsafe!!
I said to the breeder this is the dog i want, she looked at me like i was mad, i told you she said she's not up for sale, i dont even know if she'll servive the state of her and you wont want to pay what i want for her, i asked how much £250 came the reply.
So having parted with the cash..(like i said she was mine from the second i saw her) i took her home and straight to the vet. he checked her over she had ear mights, fleas, a stomach bug, and was under weight so i was given ear wash and drops, flea and worm treatment and antibiotics and i took her home.
First night was torture!! she cryed all night and would only stop when i sat with her, ok i thought new home give her a couple of weeks..... 3 months later i was still sleeping on the sofa with her, she was afraid to be alone and was afraid of the dark, both problems we have now overcome!
Every day was the same:
• 5am her first feed (porage)
• 6am walk she could not walk far at first the end of the garden and back would tire her out!
then home for a sleep
• 9.30 next feed (chicken and boiled rice)
• 12.30-1 another feed again chicken and rice followed by another walk
• 3pm yet another feed some dog food followed by another walk
• 6pm feed boiled chicken and rice
• 9pm last feed of the day and out for a small walk
• then bed
and such was the routine small meals and often and small and often walks just to build her strength.
Nightimes were the worst - she would wake up crying i'm sure she had nightmares! And such was our life but little by little she got better.
at a year old i entered her into a dog show just for a bit of fun and 2 my shock and wonder she won best in novelty!!i was so proud of her
so we did a few more and she started to win pedigree classes, and at 16 months she won her first best in show!!
Then disaster struck, i was walking her through a park when out of no where a staffordshire bull terrier attacked her, i rushed her to the vet fearing for her life i had never seen so much blood. 3 weeks later i picked up my wonderful gsd, she was battered and bruised but she was a hero she walked out and got straight in to the car!!
After a couple of months she had made a full recovery, however some damage still remains she has never been the same with other dogs!
So i took her back into showing and she carried on winning, she has to date filled 2 trophy cabinates and 10 shoe boxes of rosets, and to top it off last year she qualified for crufts i was estatic!!
I am a major gsd fan and would now never change from the breed - seren is my best friend the most loyal dog i have ever known, she loves walks and playing with tennis balls her favorite place is the beach she will swim for hours, and she loves the shows!!
Hopefully she will do as well this year!! i took her back to the breeder a while back and she couldnt believe the difference she was amazed at how she had turned out.
The effort i put in to her has paid back a million she is loyal loving and in my eyes perfect!!