My German Shepherd, Sir River Maxim, RIP
by Sue
(Spokane, WA)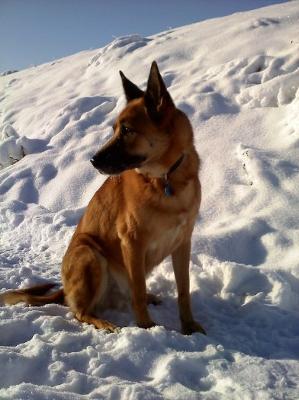 River in the winter of 2011
On Tuesday, 6-26-12 @ 12:05 PM Sir River passed over the Rainbow Bridge with dignity and courage. The last voice he heard was me whispering in his ear that I loved him and that he will always hold a special place in my heart.


It was a very difficult decision to make, however in part he made it for me. His beautiful eyes told the me it was time to let him go.
There will NEVER be another GSD like him---he was my protector, loyal companion, and I will always cherish the time we were together. Farrah (GSD housemate and Lady Scarlett (calico cat) know he is gone and they have been by my side ever since.
It is quiet around here now, but I know River's spirit is with all of us.
We had River privately cremated and he is not resting on the mantle watch over all of us once again.