My German Shepherd Stela, RIP
by Mark
(Buckeye, AZ)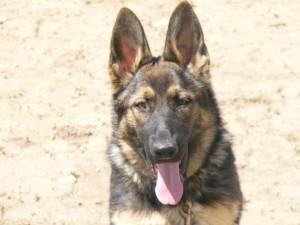 Beautiful Stela
Stela passed March 10, 2013


She died from spleen rupture
that I didn't see it come.
I let her out before bed
got up 5 hrs later and she look
pale rush her to 24 emergency Vet
15 min later she stop breathing.
She was a great dog was a protector
till the end.
I missed you Stela
I love You
Total German Shepherd
:
Mark, I am so sorry for the loss of your wonderful Stela. Bless her heart and yours too - I hope she was not in pain.
As for you, you will feel loss for some time to come but eventually your thoughts will be of happier times with your girl and not so filled with tears or despair. I hope the despair doesn't last too long for you but in a way it is also a show of exactly how much she meant to you so let it come and then let it go.
And don't beat yourself up over it happening so soon - who could have seen something like that coming? Truly I think something like that was totally a condition that most people would never even think of or expect to happen to any member of their family.
You did all you could for her once you knew she was in distress and that is all we can do as pet owners - try and keep them happy and healthy and get them treatment when problems arise. You did the right thing.
But we thank you for sharing your Stela with us all and we will all keep you in our thoughts as you go through this rough time. Stela was a wonderful dog and a beautiful GSD and she will be missed.