My German Shepherd, Tressiter, I love you as much as ever.
by Cindy Gates Ho
(York, Pa.)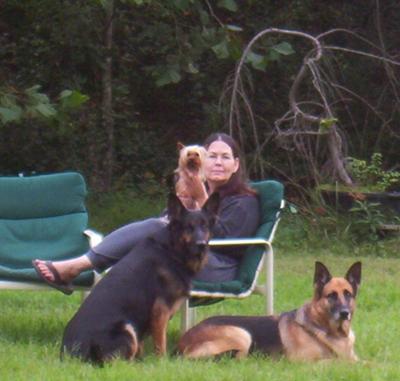 Tressiter, Zed and Wolfie
Tressiter, you enriched my life more than I could ever express. You were faithful, loving and made me laugh with your funny ways.
You left me with a beautiful son of yours who is my link to you today. He is thirteen years old now, as you were when you had to leave me.
I cry tears of sadness as I imagine the day he must leave me too. I can see you by the "bridge" as you sniff the air and turn around to see Zed bounding toward you. I imagine your joy at seeing him and I think you will know the sadness I feel as I now miss you both.
Run and play my friends, I will join you one of these days. You are loved, you are loved, you are loved.
Total German Shepherd
:
Dear Cindy, thank you so much for taking the time to share your wonderful story about your great German Shepherd Tressiter (I love the name, have never known a GSD with this name before - very unique), with us here at Total German Shepherd. Let me say right up front that I am so very sorry for your loss - it is a shame you didn't get the chance to have more time together with Tressiter. What a wonderul German Shepherd - and I know that Tressiter is missed.