My German shepherd/Akita mix is collapsing spontaneously
by Michelle Wood
(The Dalles, OR USA)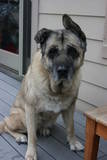 our 10 year old akita german shepard mix dog has for the last couple of weeks been having her back legs give out while she is stretching for a treat.


"collapse" is a strong word but she reaches tenderly for a treat that we are handing her she seems to have a jolt/shock run through her body, then she kind of "gives out" she is standing on hard wood floors when she completely has had her back end sink to the floor, on the carpet she doesn't collapse all the way, she yips and then seem afraid of taking the treat she was trying to take in the beginning...
she doesn't seem to have any other symptoms, her appetite seems normal, water intake normal, activity normal, bathroom habits normal, sleeping habits normal.
Last year we had a medical scare, she is a very big dog, 110lbs and has always seemed to have joint issues, even as a puppy sometimes she would just seem to have get up slowly sometimes, she have progressively gotten worse as far as having difficulty going up the stairs, no trouble going down, anyway took her to the vet for routine shots and check up, we had them look at her joints and they put her on meticam which almost killed her had a terrible reaction and was in the hospital for 2 days with liver failure.
I dont think she ever really regained all her weight from that episode but been normal since then, now we are having this issue. everything i look at online seems to point to a liver issue but she has no other symptoms. we love our dogs, she has a sister from the same litter.
thank you so much for ur time:) it seems like maybe the act of reaching her head forward causes issues with her back hips and legs...the vet said her hip joints are fine her "knees" are the problem. thank you again.