My German Shepherds, Asha and Smartie
by April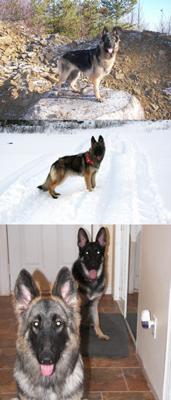 First Picture:
Asha my two year old beauty. The biggest personality out of my group. She does everything I can ask for and learsn very quickly.
Every morning when the alarn goes off she comes up to cuddle and makes sure I get up. She is an SPCA rescue, the minute I saw her I wanted her. Then I didnt have much interest in shepherds but she made me love the breed.
Second picture:
Aldercrest Mis Smartie Pants CGN's First snow and My does she LOVE it! The minute were on the trail she is prancing around begging for snowballs.
At 7 months old she is extremely intelligent and is proving it by acquiring her first title and many more to come!
Third Picture:
Smartie and Chaya Want to go out and play in the snow! These two girls love to play!
Join in and write your own page! It's easy to do. How? Simply click here to return to GSD Stories.
Sign up for promotions, news, discounts, and the chance to win prizes for you and your German Shepherd