My Girl Echoe
by Kim Somsel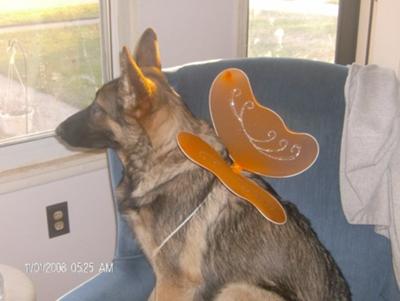 this is my girl echoe. I got her as a rescue she was four months old when got her and NO manners
It took a few to get her to behave but we did.
SHe is great with my granddaughter.
Echoe is now 2 and 1/2 and a great protector for me and my family.
Total German Shepherd
:
Hi Kim. Thank you so much for taking the time to come here and share your own personal German Shepherd puppy rescue story and picture of your beautiful German Shepherd puppy Echoe with all our readers here today.
What great pictures of Echoe that you have sent in too. She looks so comfortable and happy too - and I love the fairy wings she is wearing. Beautiful photo. Did you take the shot? Or did someone else take this photo for you? Either way, they are both great photos of Echoe and very sweet.
Did your granddaughter dress her up like that? Nicely done - she so pretty - this has also given me a few ideas of costumes for my own German Shepherd puppy this Halloween! (Even if he is a boy - I don't think he'll mind too much but we'll see)