My GSD Barks at my kids
by Wayne
(Belize)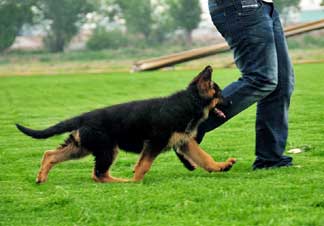 I recently bought a 9 months old German Shepard dog from a young couple in belize. They told me they got him as a pup in guatemala.
He is calm when i introduce him to the adults in my family, but he likes to bark at my kids. I think that it is because he did not grew up around kids, but i really don't know.
How could i address this problem, since i am afraid to leave him around my kids. Is there a way i could make him acustomed to them.

Total German Shepherd
: Two things I would suggest to you are to
socialize your German Shepherd
starting right now, and to also start dog training right away.
This will not be an immediate fix - it will take time and patience on your part but it can be fixed if you're willing to put in the time and the work.
There is one dog training class I recommend you check into and I'll point it out on this page - just click on either of the banners to learn more about the dog training class.
And concerning dog socialization, I suggest you read the article here about
German Shepherd socialization
to learn even more. Take your GSD everywhere you can safely and introduce your dog to all sorts of new things and it will build the dogs confidence - and yours too. Good luck.