My GSD Bronson is Always Right By My Side
by T. Brewer
(IL)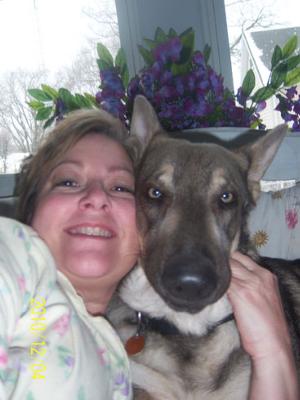 Dear German Shepherd Dog Lovers,


This is a photo of me and Bronson. He will be 3 years old tomorrow.
I am a severely disabled Army veteran with Gulf War Syndrome. There are times when I am too ill to leave the house for days.
Bronson gives me unconditional love. Because of him I am never lonely. In the photo I am recovering from pneumonia.
As always Bronson is right by my side. He brings so much joy to my life.
Sincerely,
T. Brewer
P.S. I was taking photos of my flower garden when Bronson struck this pose. It is my favorite photo of him. Bronson, is 3 years old. I am a disabled
veteran who stays at home a lot. He has brought a lot of joy and love into my life.