My GSD called MOTO. (And why he is named MOTO)
by Paul Rosewell
(Coventry. U.K.)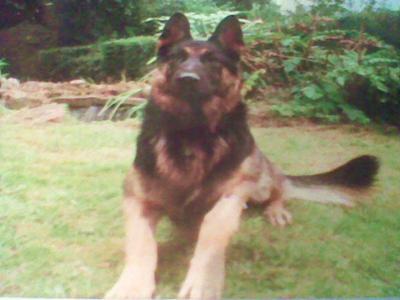 Thats my boy.
Hello to all dog owners everywhere and i would like to share my story with you about my GSD Moto and sadly on this date (10/11/10)which i will NEVER forget because on that date i made the hardest decision ive ever made in my life and the story begins like this. Wednesday,ten,two thousand and ten and i was on my way from the garden to nip upstairs to check to see if "the boy" was doing ok and to ask him if he wanted a quick "spin"!!


A "spin" being what i used to call a quick walk round the block and NOT the game we played as kids where someone was blind folded,spun round and round really fast and then told to "find where you came in",and of course they were highly amusing to watch as they fell over various items of sharp cornered furniture,crotch height tables (know what i mean men?)and other such obstacles put in their way for maximum pain,suffering and gougeness!!
So,a "spin" for Moto was to the shop and back. Still with me folks? Anyway,as i approached the living room door i heard the sound of the boy desending the stairs fast,fast meaning that his back legs had given way AGAIN at the top and he was heading for the two large cushions i had placed at the bottom to soften his fall should this situation arise.
BUT what i heard reduced me to tears i dont mind admiting,a sickening loud thud where his head came into contact with the radiator at the foot of the stairs to the side!! And i swear to you on that day i heard Moto use a word he has never used before!! That hurt him i can tell you.
So,he was at the bottom shaking his head with only two out of his four legs working and i said to myself "Chelsea,the day has come son". I sat down next to him and tried to pretend i wasnt crying but he was way ahead of me as usual and said "Got something in ya eye i suppose"!! I looked at him and said "Moto,i know you understand every thing i say to you so im sorry son but im going to have to take you up the vets mate and we wont see each other for a while but dont worry i,ll be back,i promise"
And he said to me,and i quote "your decision is fine by me mate just dont let him near me if he has got that thing that takes my temperature"!!! And so dear readers thats what happened on 10/11/10 and like i said before its a date i,ll never ever forget,in the same way that millions of people remember 22/11/63, or 16/8/77 or 8/12/80 or of course 11/9/01.
By the way look away now if you dont want to hear the answers, 1.Shooting of JFK. 2.Death of Elvis. 3.Shooting of JL.(John Lennon)4.9/11. Anyway folks, if there are any people still awake after that i will share 2 more true stories with you if ya interested,
1.How Moto became ours(me and the wifes)and how his name came about. Oh and how Moto and John Wayne were connected!! I,ll cut this short,we were looking to get a rescue dog,preferbably a GSD and it didnt take long for a dog warden to contact us saying he had one that was found wandering along the hard shoulder of a real busy motorway here in the U.K called the M5 after being thrown from a car,luckerly the car wasnt travelling at high speed when some xxxxxxxxxx threw Moto (to be)out the door onto the M5 like he was garbage.
A few bruises and scratches was all and after some injections from the good people of the PDSA he was delivered to us and you could tell he had been a victim of abuse and neglect. Thats Moto(to be)by the way and not the Dog Warden i was talking about there. First thing he did was jump straight into our garden fish pond (not with fish in it by the way)and once again i was referring to the dog and not the dog warden!!
We knew then we were onto a winner here. Part two follows after the break. Welcome back, When the wife came up with the name MOTO obviously after MOTOrway the dog was relieved,you could tell by his face and i asked him not to say anything to the missus but this was too good he told her to keep to himself.
Yeah, i couldnt for the life of me come up with a real good catchy name like my dear wife could and when she asked Moto "Why,what has Chelsea been calling you when you go out "spinning" together"? Ok,i admit it,there were a few that werent really suitable or fitting for a dog that had been through a rough time and i am THE FIRST to admit that "Junction 27"didnt have a ring to it, or for that matter did "Hard Shoulder" and when i began saying "Fetch the stick Lane Closures Ahead" and "Sit down Road Works Commencing" well,it just got stupid and i got some funny looks i can tell ya.
I know that dogs are like flash motors in the way that they can be,and excuse me for being sexist here but Dogs are good "Bird Pullers" and sexist or not this is the truth of the matter, picture the scene now with me if you will, me and my handsome GSD, her with her tasty Labrador, the dogs run around playing and exchanging phone numbers,and me with Miss Coventry 3 years running NEARLY swapping phone numbers. I say nearly because she thought i was on some sort of medication when i was saying things like "He hasnt done that before,have you Traffic Cone"? or "Good lad aint ya Loose Chippings"?
So my missus saved a GSD from a lifetime of embarressment to be honest. But i still think LITTLE CHEF 5 MILES was one of my better ones!! I will explain the "saddle bags" another time soon,until then i have posted a photo of Moto and "Bags" and let me give you another example of why he was the best dog in the world, he walked around ALL DAY with the bags fully operational and "in use with selected items" slung over his back and loosely secured under his girth so i could test them out to see if they worked (they did) and because he trusted me so much.
And i never let him down. And he never let me down either. Thank you for your time and watch this space. Regards Chelsea.