My GSD Captain Has an AKC Canine Good Citizen Certification
by Kelly Burkhardt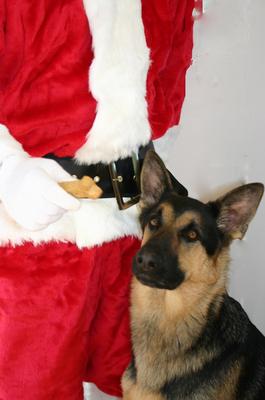 GSD Captain with Santa
This is Captain. He is now 7 years old and is the oldest of my pack of four GSD's. He is a very sweet and calm dog with lots of training.


He is on and off leash obedience trained, an excellent tracker and is also personal and family protection trained. Captain also carries an AKC Canine Good Citizen certification. He's pretty much an awesome dog and we love him!
Total German Shepherd
:
Hi Kelly,
Thank you so much for sending information to us all about your wonderful German Shepherd Captain. I really loved the picture! He is a truly handsome boy! And he's really watching that cookie Santa has in his hand pretty intently! ;)
And good for you on having him trained so well - what a great way to exercise that great big German Shepherd brain! And also a great way to make them fit into your household too.
Maybe some time in the future you can send in a story about all your other German Shepherds and maybe a few pictures too of them. I know I'm not the only one who would love to see them!
Continued success with your fuzzy babies and your entire flock of German Shepherds!! After all, German Shepherds rule - right?!