My GSD Mix Would Be Perfect for Dock Jumping
by Linda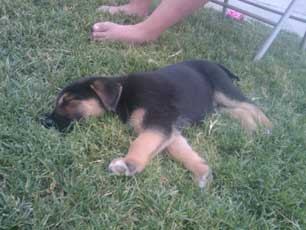 I rescued a female all black shepherd mix that is a water dog. I live in Howell michigan and would love to get her into that dock jumping but don't even have a clue where to start and wondered if you know anywhere.


Tessy is 55 lbs and very lean and is the fastest dog I've ever seen. She literally is air born where ever water is and I can't keep her out of it.
I have a place in Atlanta michigan where Hunt creek runs through my property and Tessy is in that more than on land. She would be perfect for dock jumping. Any ideas????? Thanks so much. Linda Horton
Total German Shepherd
:
That is so cool. I had a female German Shepherd several years ago that was also the ultimate water hound - no matter the time of year, the temperature outside, the amount of water available... you name it - if she saw water she was in it, and me too a lot of the time. :~)
She loved the water - and I know for a fact that she was a full blooded German Shepherd but I swear I think a Newfie got in there somewhere way, way, way back - or maybe she was raised near a family of Newfies. I'm not sure.... :~>
Anyway, if I were you I would go to google and run a search for Dock Dogs or Dock Dogs events and you should find loads of info. The Purina Incredible Dogs events have dock dog as a part of their competitions as well. But here is one place to start - http://www.dockdogs.com They even have upcoming dock dog events listed.
Please send us some pictures and videos once you get the chance - we would love to see her practicing and competing on the dock dog circuit too. Good luck!