My GSD Puppy, ROCKY BALBOA
by vipin sharma
(new delhi, dwarka)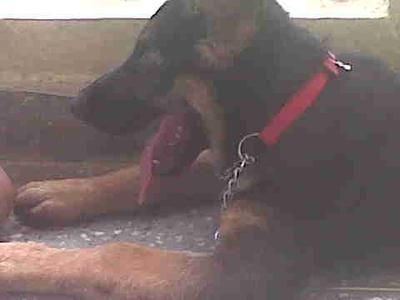 rocky balboa
MY GSD Puppy was 45 days when i brought him home and it was against my wife's decision. as she is suffering from neurologic symptoms and cud not walk properly and was not ready to take any additional responsibility apart from my family. due to the naughty endeavours and innocent face of my puppy she had soon fallen for him.


the worst was still to come as i was to undergo on official tour for 2 months i had to leave him under her supervision and care. my son and daughter were also very afraid of dogs but soon their hearts were also taken over by this puppy.
initially when he came to our family he was underweight and did not show much of a bloodline GSD features. But as he had made his special place in our family comprising of me, my wife and my son and a daughter. my wife got so attached to him that even as she was not well, took this responsibility and took personal care of my puppy along with my son and daughter, gave him good diet and exercise and trained him for basic obidience.
As i was keeping away for 2 months on official tour. when i returned home i was surprised to see the development of my puppy which has grown very strong and we named him after my fav hero...ROCKY BALBOA. Today living without him is not at all acceptable and he is next to my son.