My GSD's ears are down at 5 months, what should i do?
by Tony Fares
(Egypt )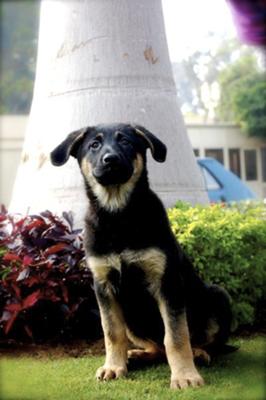 She was 2 & half months in the pic now she's 5 but her ears still the same
heyyyyyy, i hope u could help me, my black & red german shepherd who turned 5 months hasnt her ears up till now, i visited the vet. n he told me that it maybe for some genetic reasons, but her parents have both ears well stood up
i used to raise to of her brothers with her, they have both ears up, the mother put 10 puppies, they had all ears up by 2 months, n she's the only one with her ears totally down
what should i do?? she turned 5 months, plz help me
Total German Shepherd
:
The vet is absolutely correct concerning the genetics component of this but time is running out on any possibility of those ears standing on their own.
You can try
taping the German Shepherd puppies ears
up.
I would ask your breeder or the vet to show you how to do it and I also have a description of
how to tape GSD puppy ears
on the site but many people like to watch how to do something rather than read about it.
But at this point I would definitely try taping the puppies ears before time runs out - and if this still doesn't work and your puppies ears remain down I would encourage you to love your puppy for what she is rather than what she isn't.
Because she is still an intelligent, trainable, loving and wonderful part of your family.