My Hero, my German Shepherd Therapy Dog Partner, Max
by Max's Moma Lee
(Nashville, TN)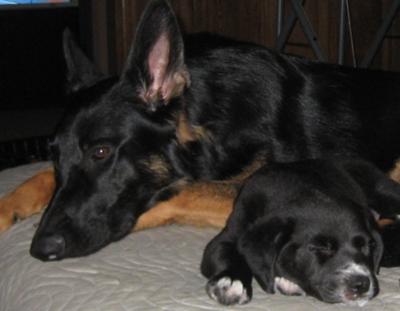 Max watching as Tracker naps.
Max and I have been working with rescue dogs for just over two years now. We have just recently started doing GSD breed specific rescue and are loving it.
Max will be 3 in March 2010 so I pray we have many years left together. To date we have fostered and adopted 96, dogs, puppies, cats and kittens.
Max helps in every aspect he can, from giving the Max bath, he licks the babies clean after they have a feeding, sometimes we my have them from 4 weeks or even 4 days if we have room they are always welcome.
Max also loves to work his paces, his drills, sit, stay and show off his rocket recall. Each night we walk the pack and Max works with the teenagers even as they jump on his back or up at his face, and loves to walk slowly with the senior we have.
He and I are starting classes this Spring at Therapy ARC to work with people, Max loves everything. I am so blessed to have him in my life, right now we have 5 foster GSDs in our home, and he just makes my heart smile with pride.
Total German Shepherd
:
Truly your Max exemplifies exactly just how versatile German Shepherds are. And how empathetic they can be. Your Max is a wonderful example of the breed.
And we'd all love to see more shots of him in action so if you ever want to send us a update on your work with him and your other "fosters" please do so. And feel free to send all the pictures you'd like to share too.
He is beautiful both inside and out and his willingness to work with you shows just how great your bond with him must be. You've done a great job with him - continued success in the future.